Gutter Cleaning
Professional Gutter Cleaning in Rochester MN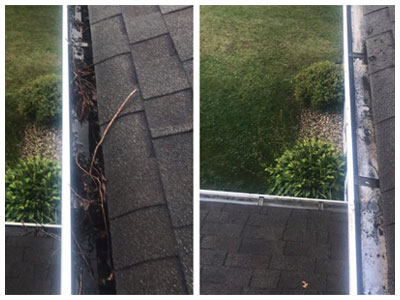 Throughout the year, a lot of dirt can get into your gutters. That is why the regular maintenance and removal of dirt and debris from your gutters is a key factor that can affect their lifespan. High heat and cold can cause the gutter to expand or shrink, causing it to split and crack. When this happens, gutter damage occurs, and intervention is necessary. For this reason, it is recommended that you inspect your gutters at least three times a year, and because ladders and tall heights are involved, it is best to call professionals.
How to know if you need gutter cleaning services?
Stopped, blocked, or damaged gutters can be identified by no flow out of the downspout, water cascading over the edge of the gutter, or drips coming from behind the gutter. All of these things can cause damage to your home by penetrating water, so it is important to call a professional at first sight of them. Checking your gutters regularly is the most important part of maintaining them. Leaves and branches can build up in your gutters, blocking the flow of water through them. Stopped water in the gutters will corrode them, and complete replacement of the gutters will be inevitable. Save on time, don't allow yourself to pay twice as much afterward!
Gutter cleaning services
Elite Exterior Solutions' primary focus is on clearing the interior of the gutters, removing any and all dirt and debris. However, in addition to working properly, gutters should also look nice and add to the appeal of your home. If your gutters are look drab and dingy, Elite Exterior Solutions house washing services can safely and effectively revitalize the exterior appearance of your gutters.
Their services include complete cleaning of the following:
Removing all debris from gutters and drains.
Internal rinses.
Packaging and removal of waste.
Brightening of dirty gutters (included with house washing).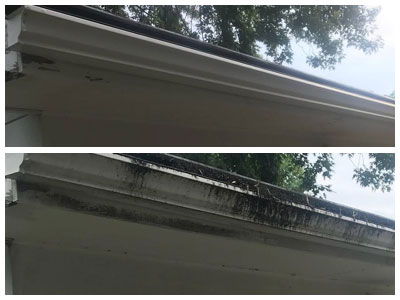 Elite Exterior Solutions cleans the gutters in all residential and commercial areas using pressure washing, a gutter vacuum system, pressurized air system, and traditional scoop-out methods. First, they remove all the blockages that are in the gutters - leaves, branches, various impurities. After clearing the blockages. They use professional equipment, machines, and vehicles for complete gutter cleaning. Their experts have extensive experience in providing gutter cleaning services. If you have a gutter problem in Rochester, MN, or the surrounding cities of Dover, Byron, Kasson, Mantorville, Dodge Center, Hayfield, Stewartville, Pine Island, Oronoco, and Eyota, feel free to contact Elite Exterior Solutions for a free estimate - they are at your service!